| | |
| --- | --- |
| | Sentry |
Sentry will prevent unauthorized users from accessing Windows 95, Windows 98 and Windows ME. Think of it as a personal guard standing beside your computer, asking users for a password before they are allowed access to Windows.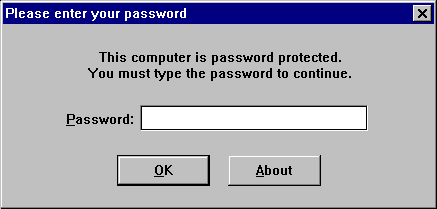 (Sample screen snapshot above)


Sentry works only with Windows 95 and Windows 98 and Windows ME, and can be used in one or both of the following ways:
1) Bootup protection - The program will prevent all unauthorized users from accessing the Windows desktop whenever your computer boots up. Before you see your desktop, Sentry will appear and prompt the user for their access password. It will be impossible for the user to continue any further without the correct password.
2) Desktop protection - The installation utility will create a desktop shortcut for Sentry that will give to you quick password protection just two mouse clicks away! Simply use the convenient desktop shortcut when you need to step away from your computer for a brief period, and when you don't want anyone to access your computer while you are away. If you are called out of the office for a short period, or need to run down the hall, just click on the Sentry desktop icon and your desktop and computer are protected from those passing by and unauthorized users.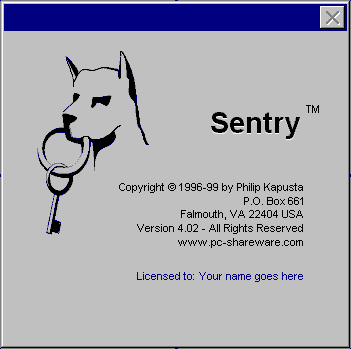 How does Sentry work?
Sentry works by restricting keyboard input which consequently prevents the user from task switching. The CTL+ESC and ALT+TAB and ALT+CTL+DEL keys are disabled while the password window is displayed. Mouse movement is also restricted within the password window. Anyone trying to access Windows will not be able to bypass the password window. The correct password must be entered to gain access to the Windows desktop.

Windows 95/98 are great operating systems, but they are not very secure. Sentry will provide you with peace of mind in knowing that your Windows desktop cannot be accessed by unauthorized users. Just activate the program and it locks the computer, waiting for a user-defined password to re-enable system access. This program goes far beyond the capabilities of screen savers.

And Sentry is so easy to install. No special configurations or tweaking with INI files is required. Your desktop will be safely and securely protected in less than a minute.
What others are saying about Sentry:
"We have about 100 PC's, with more on the way. We plan to install it on every PC on our site - a very useful piece of software indeed that fits our needs precisely - well done!" (Nick K., United Kingdom)
"Excellent program! I've tried a few and this is the best!" (Jim P., Victoria, BC Canada)
"Sentry is a bloody good product. I will send you some money. You deserve it." (Jonathan W.)
"This program is exactly what we have been looking for to help control the computer use in our home." (Ted H., West Valley City, Utah)
"Your program keeps the babysitter out of my stuff." (Tom H.)
"I haven't found a better protection for Windows 95 yet!" (Bryan K.)
"I enjoy the straight-forward interface. I reviewed several front end password programs. Yours came out on top." (Buddy C.)
"This is a wonderful invention that is a must with any household with children! Thank you for creating it. We have gone to several retailers looking for a program to do this. I can't believe we found you on the Web!" (Vanessa S., Bruceville, Indiana)
"This is one of the BEST programs I have found! I will tell as many people as possible about it!" (Brewer S.)
"I have installed your program...and it is driving [the] kids crazy trying to find the password." (Peter W.)
"Sentry is the best tool for Windows 95 security" (Norbert A., Germany)
"I had to write and thank-you for this wonderful program. My son is a 14 year old computer geek and I just happened to stumble upon some pornographic JPG and GIF files that really shocked and upset me. Needless to say I am determined to keep him off that computer at all costs. I have even resorted to bringing the power cord with me to work. I sat down at the PC for over one hour one evening trying to figure out how to restrict his access but Windows 95 does not offer alot of options with regards to access denial. The screen saver password is useless for this as well as every other option I found on Windows 95. A friend of mine did a search on the net and found Sentry... My son thinks he can outsmart me on this because he really knows about this computer stuff, but, little does he know he is in for a big surprise!!! With...programs like this I am set...watch out little computer kid!" (JoAnne S.)
Boy do I hate failure! What am I talking about??? Well I have a client that has a stand alone PC without any protection. Due to the change in the poltical climate at the computer's location, it is time for some [computer protection]. The search for a good protection program ended with yours on top. WHY??? Because I couldn't break through the trial version. I don't consider myself the normal hacker. The client will order in the next few [days],,, Yep,, needed badly. Congrats. (Dave R.)
Since my downloading of the Sentry program I've been able to come home from work and not spend an hour correcting settings on my machine from my children. Since the installation of your program they have been forced to share thier machine and spare mine undo abuse. (Joseph F.)

Hardware and software requirements:
Sentry requires a personal computer using Windows 95 or Windows 98 or Windows ME. This program will NOT run under Windows NT, Windows 2000 or Windows 3.1.

Download an evaluation copy of this program:
To download an evaluation copy of the Sentry software program that you can use on your own PC computer, click on the "Download now" link below: