| | |
| --- | --- |
| | King James Dictionary |
Is the King James Bible full of hard to understand, archaic, obsolete words? Do you know the meanings of "avouch", "bruit", "collop", "durst", and "emerods"? The King James Bible can be difficult to understand for many people who are not accustomed to its vocabulary. Using the King James Dictionary you can now learn the meaning of all those obsolete, extinct Bible words, like "concupiscence," "greaves" and "wist"...
The King James Dictionary is a software program that will increase your knowledge of the King James Bible.
Have you ever been puzzled by particular a word in the King James Bible and tried to look it up using a regular dictionary (like Websters or the American Heritage), only to end up not finding it? No longer! This handy King James dictionary allows you to quickly find definitions for over 1000 words deemed archaic.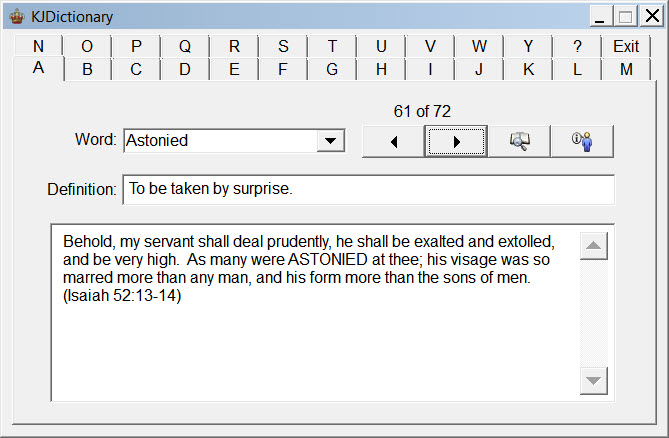 Included with King James Dictionary are several essays on the history and background of the King James Version, and its importance in the modern age...
History Of The King James Version
14 Rules The Translators Were To Abide By
The Translators of the King James Version
Title Page, Preface, Type-style and Contents
The 21st Century King James Version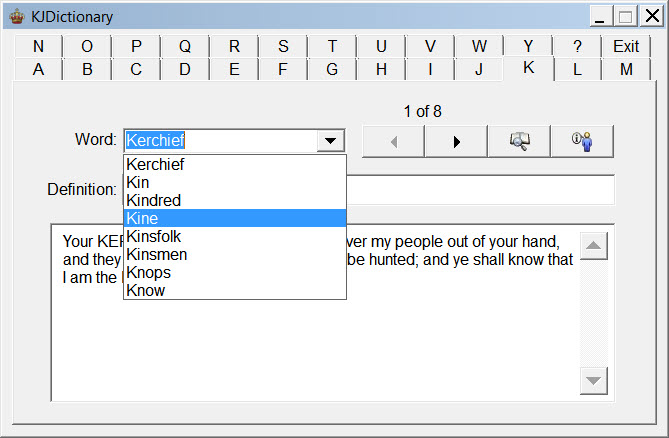 This software program is a handy and useful resource for Bible students that will assist you in understanding the King James Bible better.
"Understandest thou what thou readest?" (Acts 8:30)
What others are saying about King James Dictionary:
"The King James Dictionary is quite ingenious. I didn't know there were so many words that I didn't know. It's very smooth and well laid out. The HELP file is great. I clicked on King James I of England and was impressed with the well-done picture of the king. In fact, all the graphics are appealing. The large text in HELP is easy to read and appealing. It has great educational value." (James M., Jay, Florida)
"For 3 years I've said I wanted a dictionary to find out what the words meant when they were written... I am THRILLED with this software. I don't know how much time and hard work has gone into this creation... I sure am grateful for every single moment spent." (Taylor A., Norfolk, Virginia).
"I love the KJV compared to the NIV, NASB, NSV, etc, but many of the KJV's archaic words are not found in my English dictionary - hence the immense help of the King James Dictionary program." (Jimmy H., Singapore)
"Your tool makes it possible for people in the late 1990's to better understand early 1600 language. It is a vitally important tool which is necessary for those reading the King James today to understand God's Word for themselves." (John B., Berwick, Pennsylvania)
"Your dictionary is turning out to be a resource in my personal studies… I love it!!! Thank you." (Jay S.)
"I am quite satisfied at this remarkably needful work." (Brooks B.)
"I have found the program very useful as I open it along with whatever Bible searching program I use at the time. Sure saves me the trouble of hunting for those, often, challenging definitions." (Chuck W.)

Hardware and software requirements:
King James Dictionary requires a computer using the Microsoft Windows operating system.

Download an evaluation copy of this program:
To download an evaluation copy of the King James Dictionary software program that you can use on your own PC computer, click on the "Download now" link below: