ItemTree

ItemTree is a software utility that allows the user to group information into outline format.
The data you enter, whether it be Web URLs, phone numbers, a book outline, or a list of things to do, can be entered in a hierarchical (outline) format, allowing you to easily classify items under different categories. Very much in appearance to File Manager or Windows desktop Explorer . . . but instead of files and directories, your will see topics and categories...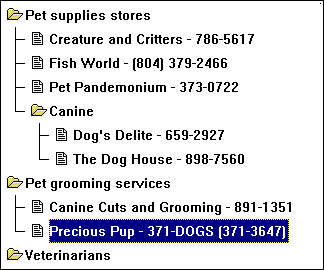 Just enter whatever data you want to keep track of...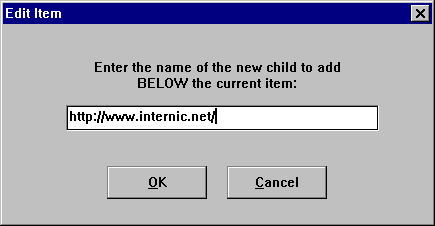 ...and click OK. That's it! Your data has been added to the ItemTree outline! (see below):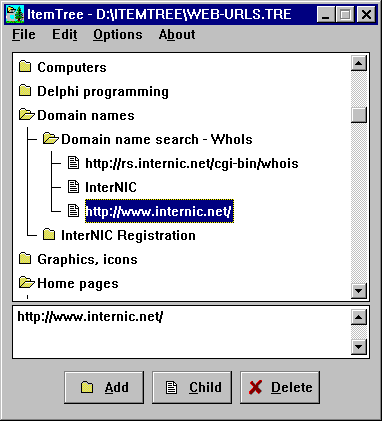 You can drag and drop items from one category to another, and delete and sort items easily.
A right mouse button pop-up menu, hot-keys and customization options make this utility a delight to use. It's so simple, handy and useful that you'll keep it on top of your Windows' desktop!
ItemTree also supports file associations. This means that if you enter a Web URL as an "item", you can then automatically have your Web browser connect you to the Web and jump to that URL. File associations also allow you to enter .TXT, .HLP and .DOC file names, which can then call up Notepad, the Windows Help engine, or your favorite word processor with the highlighted item preloaded!
It can even help you develop your ideas and thoughts into a organized format.
There are times when a notepad won't do and times when a database is overkill. For bits of data that you need to keep track of ItemTree may be the solution...
ItemTree - It's a combination of notepad, personal information manager, outline, think pad, Web bookmark keeper, and database! Wow!